We all probably have childhood memories of the epic battles we had over our favorite toys with friends or siblings. If a live show of this in the form of watching your kids be super territorial about their belongings is bothering you, try out these tips below:
Actively Practice Sharing at Home
The more you expose your kids to the habit of sharing, the more comfortable they will feel when they have to part with their precious unicorn pencil because their sibling wants it.
So incorporate asking, "Can I have a turn using your crayon, please?" or "Can you share your pizza with me?" often. Do it randomly all day. Show your child that you are thankful for them saying yes by actually using what they share with you, even for a second. Please give them the option to say no as well!
When they start picking up on the habit of asking if you can share something with them, say no sometimes too! The point is normalizing this exchange of requests.
Try using the Language of "Taking Turns"
Some parents often say that their kids cringe at even the concept of sharing because of the connotations associated with it (giving up something). Many of these parents have observed that children are more open to the idea of people "taking turns" of a particular toy/food, etc., rather than sharing.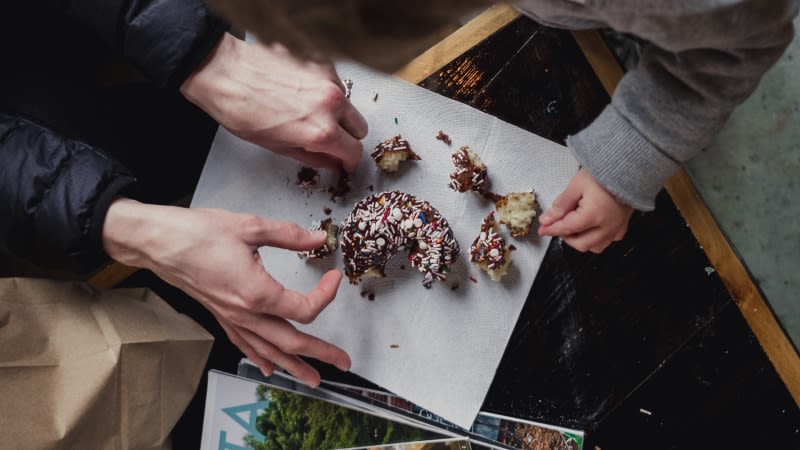 This is because "taking a turn" implies you will get it back eventually. Also, "No, please wait your turn" is less aggressive than just a "No, I won't share," right? Once they get comfortable with this back and forth of having turns, they will be more inclined towards letting their friends/siblings use their things.
Introduce "Short Turns" and "Long Turns" among Siblings
This is useful if your kids give in to sharing but then immediately want their item back. Letting the child who is borrowing something decide whether they want a short turn or a long turn with the toy teaches a lot of positive behavior to both the kids, such as impulse control and delaying of gratification.
A short turn could be as less as 10 minutes or even a day. A long turn could be for a few hours, or even a week. Having this conversation with your kids so that there is mutual agreement over this can teach patience, and of course, reduce quarrels.
Communal v. Non-communal Items
This is basically the kid version of your office pantry with a communal fridge along with labeled items that are not shareable. Designate a non-communal box for your child. Whatever they put in that, they don't have to share. Everything outside the box is communal, and they have to be flexible with sharing them.
This reduces sudden fights and also teaches your kids how to draw boundaries in a healthy manner. The contents of this non-communal can change every week or even every day. It will give your child some control over designating certain items as out-of-bounds for others.
These are some foolproof ways to foster sharing among kids without having to "force" them. These methods will make them pick up sharing as a life skill, rather than doing it because they have to!